Norfolk Honey
The food of Kings
ABOUT THIS SITE
As a beekeeper I tend to be more interested in the actual bees than I am in their honey. However, the honey that bees produce is something very special and should be made available for everybody to enjoy - so now you can!
NORWICH HONEY FOR HAY FEVER SUFFERERS

Most of the honey that my bees produce is made in the Norwich area from the wide variety of flowers and flowering trees that this rural city has in abundance. If you are looking for local unpastaurized Norwich honey as a help for preventing the worst effects of hay fever then I can help by supplying honey that has not been through my final fine mesh strainer. The people who I supply Norwich honey to as a hay fever remedy have requested in the past that it should be as natural as possible and only have the course lumps of wax removed and the small traces of pollen preserved.
If this is the kind of natural Norwich Honey that you are looking for please email me or check out my honey page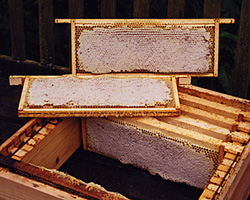 Honey in the comb taken off the beehive and ready for extraction (2005).